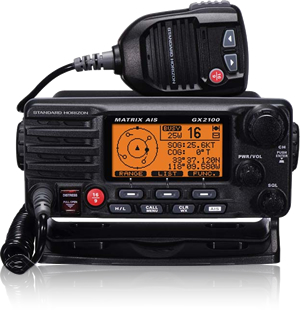 2010 NMEA TECHNOLOGY AWARD
The MATRIX AIS was judged and singled out to be the "best" based on innovative design, benefits to boaters, practicality and value by a panel of experts from Boating Writers International. October 3rd, 2010
2010 NMMA INNOVATION AWARD
This compact, affordable combination of Class D VHF and AIS brings two important safety and communication features into the hands of the average boater. Judge Pete Swanson said, "This is one compact unit that anyone can afford."
Note:To show AIS targets on the GX2100 and on the RAM3 display a GPS must be connected.
• Integrated dual channel AIS receivers with one VHF antenna connection
• AIS target display: MMSI, Call Sign, Ship Name, BRG, DST, SOG and COG
• Contact AIS Ship with DSC
• CPA (Closest Point of Approach) Alarm
• 80dB Commercial grade receiver
• Class D DSC (Digital Selective Calling) with Individual, All ship, Position Report, Request and Distress
• Independent Channel 70 receiver built-in for continuous DSC watch
• Local/Distance attenuator
• Enter, Save and Navigate to waypoints with Compass page*
• Navigate to a DSC Distress Call*
• Submersible JIS-7 / IPX7 (3.3 feet for 30 minutes)
• ClearVoice noise canceling speaker microphone with channel selection and 16/9 key
• Oversized rotary channel knob with push to enter, backlit display and keys
• 30 Watt PA/Loud Hailer with preprogrammed fog signals and listen back
• Capable of connecting an optional RAM3 second station remote microphone
• Control all radio, PA/Fog, DSC and AIS functions remotely with the optional RAM3 mic
• DSC position request and report functions when connected to compatible GPS chart plotter
• Voice Scrambler (optional)
• Versatile user-programmable scanning, priority scan and Dual Watch
• One-button access to Channel 16 and 9
• User programmable soft keys
• Navigation (LAT/LON, SOG and COG) information shown on display when connected to GPS
• 38400 AIS VDM sentence output to compatible GPS Chart Plotter
• 3 Year Waterproof Warranty
*when connected to a GPS

Dual Channel AIS Receiver Built-in
The GX2100 MATRIX AIS has a dual channel AIS receiver built-in which allows you to see AIS targets simply by pressing the dedicated AIS key. The MATRIX AIS displays AIS MMSI, Call Sign, Ship Name, BRG, DST, SOG and COG and will allow you to contact an AIS Ship directly using DSC, show your vessels position in relation to AIS targets and alert you when an AIS ship may be approaching to close to your location via the Closest Point of Approach (CPA) Alarm. In addition the MATRIX AIS can be connected to any GPS chart plotter that can accept VDM sentence at 38400 baud.
Navigate to Waypoints
The MATRIX AIS is capable of entering and saving up to 100 waypoints. These waypoints may be selected and navigated to by using a unique navigation compass display that shows your vessels SOG, COG, BRG (Bearing) and DST (Distance) to the waypoint when connected to an external GPS.
Digital Selective Calling (DSC)
The MATRIX AIS is Class D class DSC VHF with a separate Channel 70 receiver, which allows DSC calls to be received even when listening to traffic on Marine VHF channels.

The DSC DISTRESS function when activated transmits a digital MAYDAY including vessel identification, Latitude / Longitude and time (with GPS connected), to facilitate prompt response. Additional calls that can be made are Individual, All ship - Urgency and Safety, Group, Position report and position request calls.
DSC Position Polling and NMEA in/output
Easily share position information with other DSC equipped vessels using the position request and position reporting functions. With the push of a few buttons you can request the position of another vessel, or simply send your position information to the vessel you select.

The GPS Position of a received DSC Distress or Position Request call can be shown on a compatible GPS Chart plotter simply by connecting 2 NMEA wires.
30W PA and Fog signalling with Listen back
The MATRIX AIS includes a 30W Loud Hailer with Fog signals; Bells and Whistles with listenback. For added benefit, the last selected VHF channel can be heard when in the PA or Fog modes.
Optional RAM3 capable
Need to remotely control the VHF from your cockpit of fly bridge? The MATRIX AIS is RAM3 remote mic capable to control all VHF, DSC and AIS functions at a second station.
ClearVoice noise reduction technology speaker microphone
The MATRIX AIS features Clear Voice Noise Reduction Technology eliminating unwanted background noises like engines and wind during transmission. This assures transmissions are crystal clear along with dedicated 16/9 key and channel selection. In addition the microphone includes a speaker for crystal clear receiption of transmissions.
Commercial grade 80dB receiver
Advanced receiver technology rejects the reception of unwanted signals from pagers and other unwanted VHF frequencies. In addition the MATRIX AIS has an receiver attenuator to futher reduce noise in busy harbors and marinas.
Big, bold display
There is no question about it. With a big, bold display there is no mistaking the information. The contrast and brightness can be adjusted for situations where the radio cannot be mounted directly in front of you.
Programmable Channel Names
The MATRIX AIS is supplied from the factory preloaded with description of the use of Marine channels (16-Distress, 22A-USCG, 71-Pleasure...). The channel names may be customized by the user to easily understand the use of each channel.
GPS repeating
By connecting a GPS to the MATRIX AIS; Position, date, and time are also displayed when interfaced with a GPS receiver.
Programmable Scan, Priority Scan and Dual Watch
Scanning is not an issue with the MATRIX AIS. The radio can be setup to scan any number of channels with or without a priority channel or simply can be setup to scan between a priority channel and one other channel (dual watch).
NOAA Weather channels and Weather Alert
10 NOAA and Canadian Weather channels are pre-programmed and easily selectable using the dedicated WX key. In addition, the MATRIX AIS can be set to monitor WX channels and provide an audible alert to inform of pending storm advisories.
It's built better so backed better
Because the MATRIX AIS is built better, it's back better. If your Standard Horizon MATRIX AIS ever fails for any reason including water damage during normal use in the first three years, STANDARD HORIZON will repair or replace it free, without hassle or charges…period! If it fails thereafter in normal use it for the life time of the product it is covered by Standard Horizon's Lifetime Flat Rate Service and Customer Loyalty Programs.